Evolution: An Overview
When discussing online casinos for Australian players, the name Evolution inevitably crops up. Renowned for its impeccable offerings, this article sheds light on the journey and accomplishments of this esteemed provider. Our team of professionals has meticulously examined and selected top online casinos powered by Evolution, ensuring that Australian players receive nothing but the best.
Origins & Growth
Established in 2006, Evolution AB (publ) has been at the forefront of the online casino industry since. Its commitment to providing fully integrated B2B Online Casino solutions quickly garnered attention. Today, they stand as a paramount B2B provider, serving over 600 operators globally. With a workforce of 16,000+ individuals spread across studios in Latvia, Malta and North America, its global footprint is evident. The parent company, proud of its Swedish roots, is publicly listed on Nasdaq Stockholm under the ticker EVO.
The Vision & Offerings
Beyond just being a provider, Evolution prides itself on being a partner. Collaborating with more than 600 operators, which includes a majority of the top online casino operators and even some land-based casinos, they have consistently delivered exceptional Live Casino solutions. Its proactive approach to anticipating market shifts and preparing for new regions ensures its partners always have an edge.
Evolution: The Innovators
In the ever-evolving landscape of online gambling, few names have made as profound an impact as Evolution. Its pioneering spirit and relentless drive for innovation have solidified its reputation as industry trailblazers. But what precisely sets Evolution apart as the innovators of the industry?
Revolutionising Live Casino Gaming
Evolution's most significant and recognisable contribution to the world of online gambling is undoubtedly its Live Casino offerings. Live dealer casino gambling, in essence, merges the thrill of real-time casino action with the convenience of online gambling. Players can engage with real dealers, in real-time, from the comfort of their homes, recreating the immersive experience of being at a physical casino.
Evolution has elevated this experience by incorporating state-of-the-art studios, professional and personable dealers, and a vast selection of games. Its game library isn't just limited to classics like Blackjack, Roulette, and Poker. They have continually expanded it to include innovative variants and game shows, ensuring players always have something new to look forward to.
Pioneering New Gaming Experiences
While Live Casino remains its flagship offering, Evolution's innovation doesn't stop there. They've ventured beyond traditional casino games, introducing unique and engaging formats. Some of its notable innovations include:
Game Shows: Building upon its live casino expertise, Evolution introduced a series of game shows that combine elements of popular TV shows with casino gambling. Titles like Dream Catcher and Monopoly Live offer players a blend of entertainment and winning opportunities.
First-Person Gaming: This is a unique take on traditional table games, offering players a highly immersive, RNG-based experience. It's a blend of the best of both worlds, combining the immediacy of video games with the unpredictability of casino games.
Scalable Solutions: Recognising the diverse needs of operators, Evolution developed scalable solutions that allow operators to cater to different player segments and demographics seamlessly.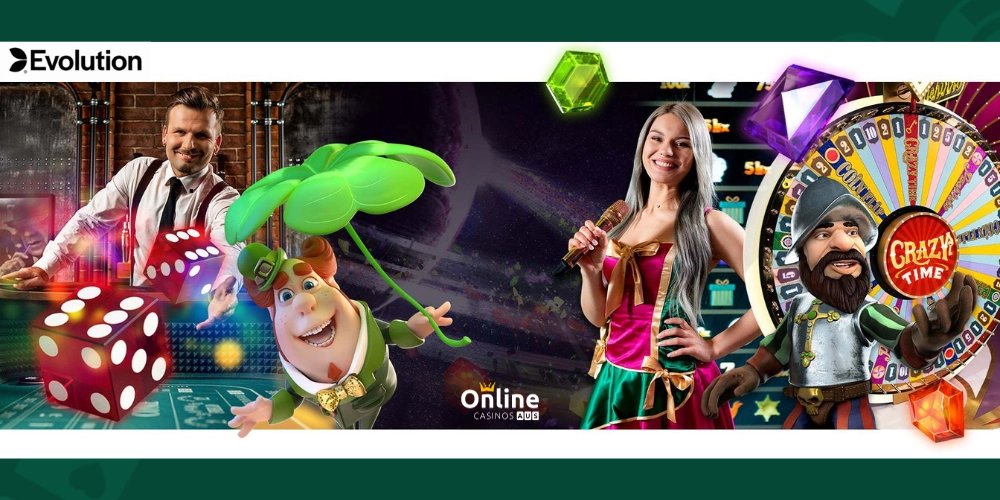 Preparing for the Future
Evolution's commitment to innovation is evident in its continuous efforts to anticipate and adapt to market trends. They're not just content with setting the standard; they aim to keep pushing the boundaries of what's possible in online gambling. This proactive approach ensures that it remains at the cutting edge, providing its partners and players with best-in-class experiences.
Evolution has crafted ties with iconic land-based casinos, innovative game studios, and leading sportsbook platforms, ensuring a holistic gambling experience for players. Companies like Red Tiger Gaming, Ezugi, Nolimit City and several others have also been significant collaborators, although the details of these partnerships are vast and varied.
The NetEnt Acquisition
The merger with NetEnt was more than just an acquisition; it was the fusion of two industry giants. With NetEnt's extensive portfolio of RNG games and Evolution's unmatched live dealer offerings, the combined entity set new benchmarks, offering a comprehensive suite of expert gaming solutions.
Alliance with Big Time Gaming
For the Australian audience, the acquisition of BTG stands out. As the Aussie-based innovator renowned for its Megaways mechanic, BTG's fusion with Evolution amplifies the best of both worlds. This merge ensures Australian players get a taste of homegrown innovation on a global scale.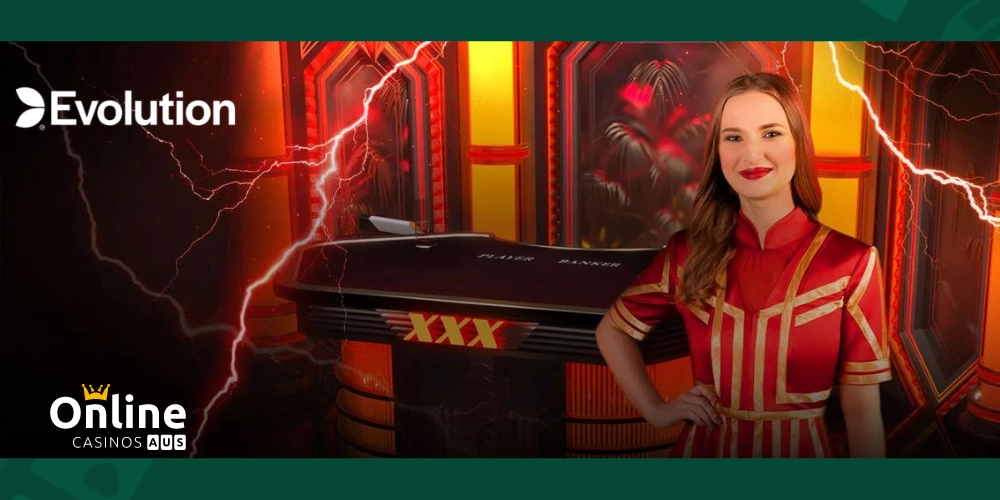 Most Popular Games by Evolution
Within the vast ocean of online gambling, Evolution's offerings shine like beacons, guiding players to some of the most immersive, thrilling, and innovative gambling experiences. Its portfolio boasts a diverse range of games, from classic casino staples to unique, modern interpretations that cater to a broad spectrum of player tastes. Here are some of the standout titles that have captivated audiences and solidified Evolution's reputation as a leading gaming provider.
Live Roulette
One of the cornerstones of any casino, Evolution's Live Roulette online for real money takes the classic game to new heights. Streamed in real-time from its state-of-the-art studios, players can experience the thrill of the spinning wheel, interact with professional dealers, and enjoy a range of special features that enhance the gameplay.
Lightning Roulette
Lightning Roulette adds a spark to the traditional roulette game. In addition to the regular roulette bets, this game features RNG-based lucky numbers and multipliers every round. With visually stunning studio designs and electrifying game mechanics, it offers players a chance to win multiplied payouts.
Live Blackjack
Evolution's Live Blackjack tables are always buzzing with activity. Offering players the chance to face off against real dealers, this game provides multiple side bets, bet behind options, and interactive features that make every hand exciting.
Live Poker
From Casino Hold'em to Three Card Poker, Evolution offers a range of live poker variants to cater to every poker enthusiast's preference. Each game retains the core essence of poker while introducing unique twists and features. Players can engage in real-time strategy, bluffing, and decision-making, all while interacting with live dealers and fellow players.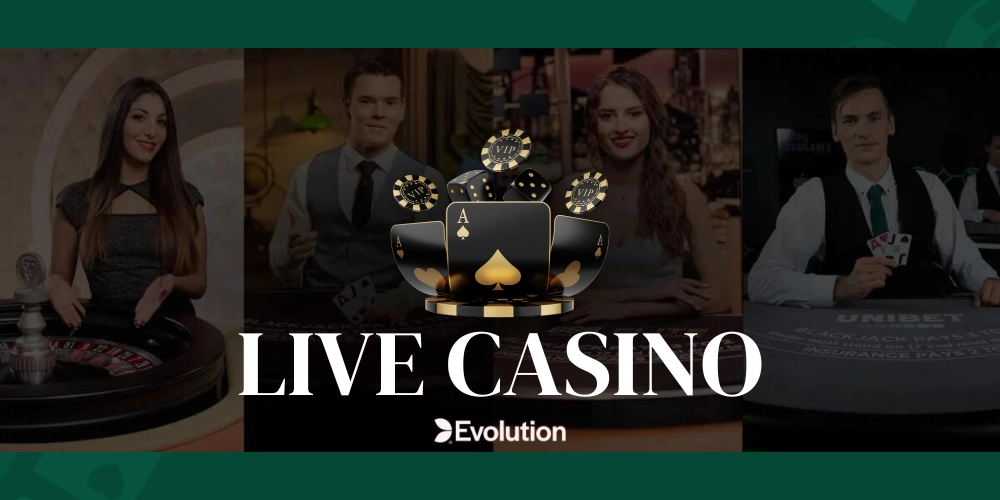 Dream Catcher
A departure from traditional casino games, Dream Catcher is Evolution's take on the money wheel game format. Hosted by engaging presenters in a vibrant studio setting, players bet on the number they believe the wheel will stop at. Its simplicity, combined with potential multipliers, makes it a favourite among players.
Monopoly Live
In collaboration with Hasbro, Evolution has transformed the beloved board game into a live game show. Monopoly Live is a blend of the Dream Catcher money wheel concept with elements from the classic Monopoly game. Players can win by betting on the money wheel, but when the game enters the 3D Monopoly world, there are even more prizes to be won.
Crazy Time
One of Evolution's most ambitious game shows, Crazy Time, is packed with bonus games and multipliers. Based on the Dream Catcher money wheel concept, players can land on one of the four exciting bonus rounds, each offering a unique gambling experience and hefty rewards.
Gonzo's Treasure Hunt Live
In a groundbreaking collaboration with NetEnt, Evolution introduced Gonzo's Treasure Hunt Live. This game merges live casino action with the thrill of pokies. Players join the iconic Gonzo from NetEnt's classic Gonzo's Quest in a live treasure hunt, combining the best of pokies and live gaming with a human presenter. It's worth noting that this game is part of a series, and in another non-live version, the innovative Megaways mechanic developed by BTG was integrated to create Gonzo's Quest Megaways, offering players thousands of ways to win.
These are just a few of the gems in Evolution's extensive game portfolio. Each game is meticulously crafted, ensuring players are treated to visually stunning, entertaining, and rewarding gambling sessions every time they play.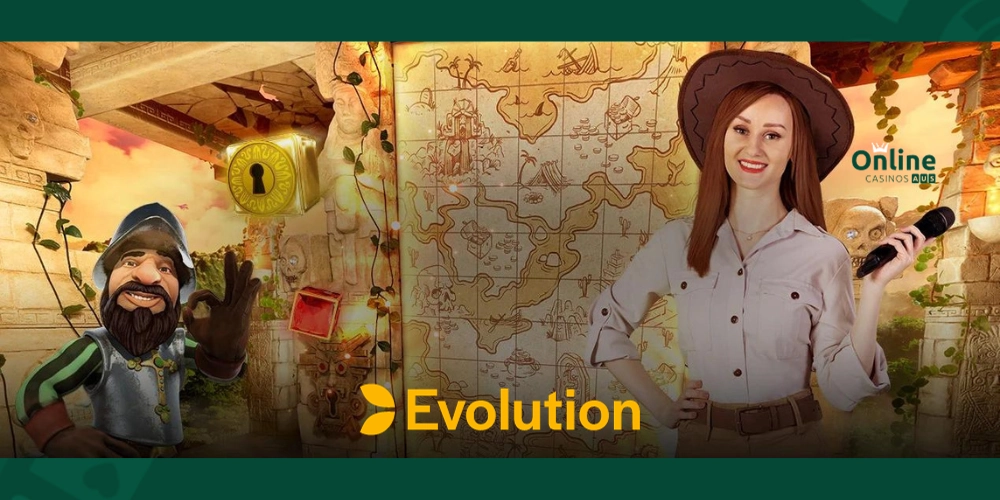 Why Choose Evolution?
In the bustling landscape of online gambling, certain names resonate louder, and Evolution is undeniably one of them. Its meteoric rise is not just a tale of exceptional game development but a testament to a visionary approach that has redefined the boundaries of digital entertainment. Evolution doesn't merely create games; it crafts experiences. Its offerings, a harmonious blend of technological prowess and artistic brilliance, have set benchmarks that others aspire to reach.
Its collaborations, be it with NetEnt or BTG, are not mere business decisions but strategic alliances, aiming to elevate the player experience to unparalleled heights. And it's not just about the aesthetics or the gameplay; it's about understanding the pulse of the gambler, anticipating their desires, and delivering beyond expectations.
For those who seek not just ordinary casino games but moments of exhilaration, moments where the heart races, and the world fades away, there's one name that promises such transcendence – Evolution. Choosing them is not merely selecting a game provider; it's opting for a journey, an adventure, and a promise of excellence that few can rival.
Frequently asked questions
What sets Evolution apart from other online game providers?
Evolution's primary distinction is its focus on Live Casino experiences. They have revolutionised this segment by offering real-time games with professional dealers from state-of-the-art studios, creating an immersive environment that feels like a physical casino, all accessible from the comfort of one's home.
Are Evolution's Live Casino games fair and trustworthy?
Absolutely. Evolution adheres to strict regulatory standards and employs advanced technologies to ensure game integrity. All its live games are overseen by professional dealers and are streamed in real time, allowing players to witness every action and ensuring transparency.
Can I interact with dealers and other players in Evolution's Live Casino games?
Yes, interaction is a significant aspect of the live casino experience. Evolution provides features that allow players to chat with dealers and, in some games, even with fellow players, enhancing the social aspect of online gaming.
How diverse is the game portfolio of Evolution Live Casino?
Evolution boasts an extensive range of Live Casino games, from classics like Blackjack, Roulette, and Poker to innovative game shows like Dream Catcher and Monopoly Live. It continuously expands its offerings, ensuring players have a wide variety of choices.
Do I need special software to play Evolution Live Casino games?
No. Evolution's games are designed to be accessible directly through your web browser. While some casinos might offer dedicated apps, accessing and playing Evolution's games is typically hassle-free without any additional downloads.
How does Evolution ensure a seamless live gambling experience?
Evolution employs cutting-edge technologies, high-definition streaming, and a reliable infrastructure to ensure players experience minimal disruptions. Its studios are equipped with the latest equipment to provide clear visuals and crisp audio, making the live gaming experience smooth and enjoyable.
How does Evolution ensure the quality and professionalism of its live dealers?
Evolution places significant emphasis on the training and professionalism of its live dealers. Every dealer undergoes rigorous training at Evolution's dedicated academies, ensuring they are well-versed with game rules, player interactions, and broadcasting nuances. This commitment to excellence ensures that players receive not just a game, but a premium, interactive casino experience every time they join a table.