Pokie

Gonzo's Quest

Provider

NetEnt

RTP

95.97%

Paylines

20

Maximum Win

2,500x

Volatility

Medium

Min Bet

$0.20

Max Bet

$50

Jackpot

No

Bonus

Yes, Free Falls + Avalanche multipliers
Gonzo's Quest Theme
Gonzo's Quest takes players on a breathtaking journey through the dense jungles and ancient temples of the legendary city of Eldorado. The game captures the essence of adventure with its intricately designed visuals, transporting players deep into the heart of an ancient Incan civilization. The backdrop of the game showcases a magnificent waterfall cascading beside stone temples, with Gonzo himself waiting eagerly for the next big discovery.
The symbols, represented by beautifully detailed stone masks, pay homage to various Incan deities, each exuding a sense of history and mysticism. The subtle animations, like the fluttering of torch flames and the occasional dance moves by Gonzo, add to the game's atmospheric charm.
Every design element in Gonzo's Quest, from the earthy colour palette to the ambient sounds of the jungle, has been carefully curated to create an immersive experience. The game not only offers a chance to win big but also provides a visual feast that narrates the story of an explorer's relentless pursuit of hidden treasures.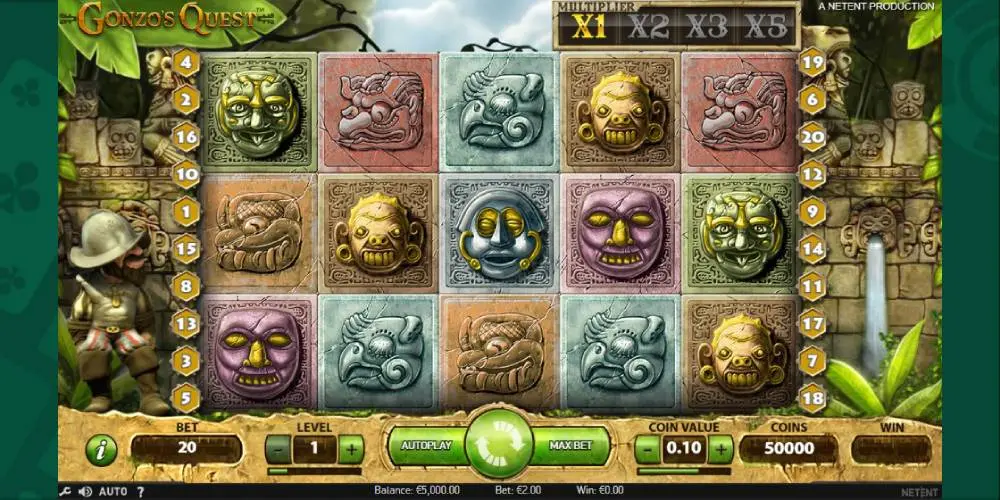 Play Gonzo's Quest For Real Money
Experience the wonders of Eldorado and seize the opportunity to uncover its hidden treasures when you play Gonzo's Quest for real money. By exploring the trusted online casinos listed below, readers can narrow down their search to some of the best online casinos specially curated for Aussie players. Engage in this captivating pokie and relish the exhilaration of every spin, win, and moment of exploration.
Play for Free
For those who prefer a risk-free adventure, Gonzo's Quest also offers the option to play for free. Many of the esteemed online casinos such as King Billy provide this free-play mode and you are also able to play the demo directly from the NetEnt website. Playing the demo provides an excellent opportunity to familiarise oneself with the game's dynamics, soak in the enthralling narrative, and enjoy the experience, all without placing a bet.
All you need to know about Gonzo's Quest
Gonzo's Quest stands out as a distinctive pokie, offering players an innovative gaming experience. The game is based on a 5×3 grid with twenty fixed paylines, ensuring multiple chances to land winning combinations. One of the game's hallmark features is its Avalanche system.
Unlike traditional spinning reels, symbols in Gonzo's Quest tumble down, and when a winning combination is achieved, the involved symbols explode, making way for new ones. This can lead to multiple wins in a single spin, and with each successive win, the multiplier increases, amplifying the potential payouts. The same system is found in other popular NetEnt titles such as Asgardian Stones and the sequel Gonzo's Quest Megaways.
Gonzo's Quest is also designed with modern players in mind. Its compatibility with both Android and iOS devices ensures that players can immerse themselves in this adventure, whether they're at home or on the go.
Symbols
In Gonzo's Quest, symbols play a pivotal role in shaping the player's journey through the legendary city of Eldorado. Each symbol, deeply rooted in the game's Incan theme, has its own unique significance. Notably, the Wild symbol, represented by a question mark on an ornate shield, stands out for its versatility. It can substitute for any other symbol, aiding players in forming those all-important winning combinations.
The Blue & Gold Totem Mask and the Green & Gold Totem Mask are among the more elusive icons, yet their appearance on the reels heralds significant rewards. In contrast, the Teal Bird and the Red Dragon make more frequent appearances, ensuring players enjoy consistent, albeit smaller, payouts.
The interplay between these high and low-value symbols adds depth to the gameplay, as players eagerly await the appearance of rare icons while appreciating the steady rewards from the more common ones. Below is a table of the maximum payouts for each symbol to help you gauge the expected outcome of landing 5 of each in a payline.
Symbols Paytable
| | | |
| --- | --- | --- |
| Symbol | Payline | Maximum Payout |
| Blue & Gold Totem Mask  | x5 | 2,500x |
| Green & Gold Totem Mask  | x5 | 1,000x |
| Yellow & Gold Totem Mask | x5 | 500x |
| Purple & Gold Totem Mask | x5 | 200x |
| Orange Snake  | x5 | 100x |
| Red Dragon | x5 | 75x |
| Teal Bird  | x5 | 50x |
Bonuses
The allure of Gonzo's Quest is further heightened by its captivating bonus features, which offer players additional opportunities for substantial rewards. These bonuses not only augment the potential payouts but also infuse the gameplay with moments of excitement and anticipation. Continue reading on for an explanation of each bonus feature to assist you in understanding how they perform within the game.
Avalanche Multipliers
Gonzo's Quest introduces the Avalanche system, a departure from traditional reel spins. With this feature, symbols cascade down the reels, and winning combinations result in those symbols exploding, making way for new ones to tumble into their place. With each successive avalanche win, a multiplier is applied, and this multiplier increases with every win.
During the base game, multipliers can escalate, magnifying the potential rewards of each spin. This feature ensures a dynamic gameplay experience, where every spin can lead to a chain reaction of wins.
Free Falls
The Free Falls feature, akin to free spins in many other pokies, is a highlight of Gonzo's Quest. Activated by landing three Free Fall symbols, players are awarded ten free spins. But what sets this bonus round apart is the enhanced Avalanche multipliers.
During Free Falls, the multipliers are even more generous, allowing players to achieve far greater rewards than in the base game. This feature, combined with the potential for retriggered spins, makes the Free Falls a highly anticipated part of Gonzo's Quest experience.
Imagine the thrill of achieving a winning combination, and then watching it get amplified by a staggering 15x multiplier during a Free Fall!
Such moments are not just about the immense payouts but also the heightened excitement they bring to each spin. It's elements like these that make the Free Fall feature a pinnacle of anticipation in Gonzo's Quest, offering both significant winnings and an unforgettable gambling experience.
| | | |
| --- | --- | --- |
| Avalanche | Multiplier | Free Falls Multiplier |
| Initial Avalanche  | x1 | x3 |
| 2nd Avalanche | x2 | x6 |
| 3rd Avalanche | x3 | x9 |
| 4 or more Avalanches | x5 | x15 |
Treasure Tales from Gonzo's Expedition
Gonzo's Quest, with its blend of immersive visuals and innovative gameplay, has undeniably etched its mark in the world of online pokies. The game had so much success that it has paved the way for sequels like Gonzo's Quest Megaways alongside Red Tiger Gaming and another collaborative venture, Gonzo's Treasure Hunt Live with Evolution Live.
The Avalanche system, combined with escalating multipliers, introduces a dynamic gameplay rhythm where every spin can be a gateway to cascading rewards. The charm of Eldorado, and the promise of its treasures, is further magnified by the Free Falls feature, making the quest both thrilling and rewarding.
On the flip side, while the game's medium volatility ensures a balanced gameplay experience, some players might yearn for the adrenaline rush of higher volatility games. Additionally, the absence of a progressive jackpot might be a minor setback for those chasing colossal wins.
Nevertheless, the original Gonzo's Quest continues to captivate, offering an enchanting blend of storytelling and gameplay. Its lasting popularity is a testament to its well-crafted design and the adventures it promises. Whether you're in it for the tale of exploration or the potential treasures, Gonzo's expedition is one that beckons players time and again.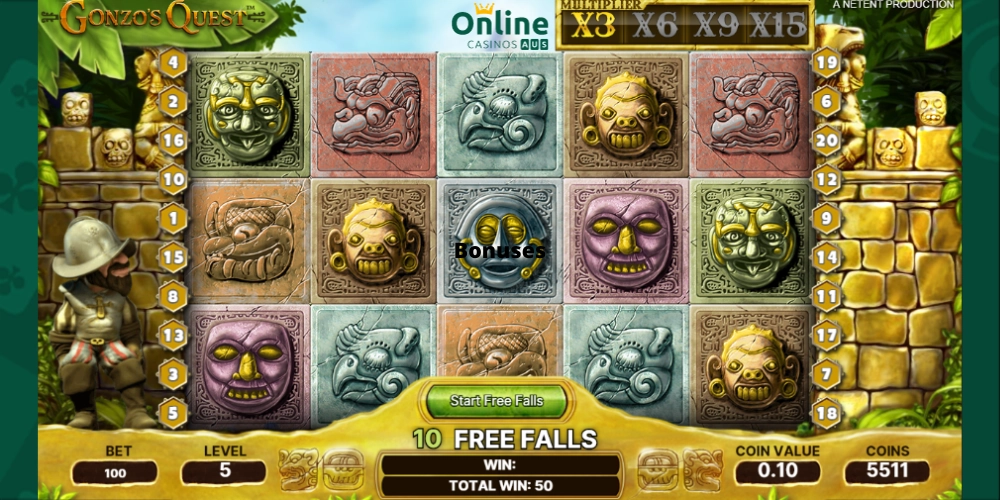 In What Way Does Gonzo's Quest Set Itself Apart?
Gonzo's Quest has managed to chart its unique course. Its distinctive blend of rich storytelling, inspired by the historic quest for Eldorado, and its innovative gameplay mechanics, like the Avalanche system, truly differentiate it.
While many pokies rely on traditional spinning reels, Gonzo's Quest brings forth a tumbling reel experience, allowing for consecutive wins in a single spin and increasing multipliers. This very feature, often imitated but rarely replicated with the same finesse, offers players a fresh and engaging approach to online pokies.
The game's commitment to a cinematic experience is evident from the outset. From the animated intro that sets the scene for Gonzo's adventure to the detailed symbols echoing Incan culture, players are truly transported to a bygone era of exploration and wonder. The success of Gonzo's Quest, further validated by its sequels, is a testament to its ability to offer something both familiar and novel to the seasoned and novice pokie player alike.
Design
Gameplay
Bonus features
Innovativity
Play Gonzo's Quest
Pros and Cons
Pros

Innovative Avalanche system allows for consecutive wins
Engaging storyline based on Gonzo's quest for Eldorado
Detailed visuals and symbols enhance the gaming experience
Multipliers that increase with each Avalanche win
Cons

Main Feature may be hard to trigger
Frequently asked questions
Who is the character Gonzo in Gonzo's Quest?
Gonzo is based on the historical figure Gonzalo Pizarro, a Spanish conquistador who set out in the 16th century to find the lost city of gold, Eldorado.
Is Gonzo's Quest suitable for both new and experienced players?
Absolutely. Its intuitive gameplay combined with unique features offers both novices and seasoned players an engaging experience.
Does Gonzo's Quest have any special in-game animations or graphics?
Yes, the game opens with a cinematic animation of Gonzo's journey, and throughout gameplay, Gonzo himself can be seen reacting to wins, making the experience more immersive.
How does the soundtrack of Gonzo's Quest enhance the gaming experience?
The soundtrack, with its adventurous and mysterious tones, complements the theme perfectly, immersing players deeper into the quest for Eldorado.
What sets Gonzo's Quest apart from other adventure-themed pokies?
Beyond its innovative Avalanche system, Gonzo's Quest offers a blend of historical context and engaging gameplay, focusing on Gonzo's spirited journey and the enchantment of Eldorado.
How does the Free Falls feature compare to free spins in other pokies?
The Free Falls feature is Gonzo's Quest's version of free spins. However, it stands out because of the enhanced Avalanche multipliers during these spins, providing greater potential rewards.