About Spin Samurai Casino
Spin Samurai Casino emerges as a distinctive online gambling destination, painting a vivid scene with its sleek black backdrop accented by strokes of neon blue and crimson, evoking the mystique of the samurai. It's a visual testament to the casino's commitment to providing an immersive and engaging gambling experience. Owned by a reputed entity in the casino world, Spin Samurai stands alongside its sister sites, each known for their unique themes and dedicated player base.
The trustworthiness of Spin Samurai Casino is anchored in its Curacao licence, a common credential in the online gambling arena, ensuring a regulated and secure environment for players to indulge in their favourite pokies.
This online casino has been crafted to stand out, with a user-centric approach that prioritises intuitive design and an expansive gambling selection with its commitment to fair play and transparency that is unwavering for the Aussie audience.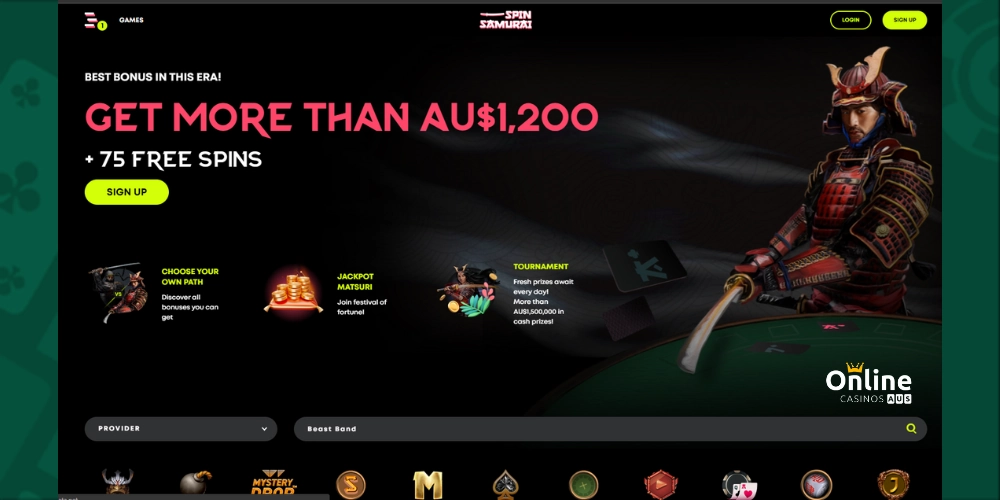 Bonuses at Spin Samurai Casino
Online casino bonuses are the foundation of a player's gambling experience, offering both a financial boost to start and added excitement in gameplay. For the online casino, these promotions are a savvy marketing tool, attracting new players while rewarding the loyalty of existing ones. Spin Samurai Casino understands this balance well, presenting a suite of bonuses designed to enhance the adventures of every kind of player, from the casual player to the high roller. Below we have provided information about the most sought-after bonuses at Spin Samurai.
Welcome Bonus at Spin Samurai Casino
The adventure at Spin Samurai begins with a series of tiered bonuses designed to boost your initial deposits, each delivering its own unique rewards to enhance your gambling experience.
1st Deposit Bonus
Embrace the warrior within with a robust 125% bonus up to $150 on your first deposit, laying the groundwork for an epic tale of chance and fortune. No complex chants or codes are needed; a simple deposit of $15 or more will see your warrior's purse swell in preparation for the battles ahead.
2nd Deposit Bonus
Your saga continues with a 100% bonus up to $300, accompanied by 25 free spins on Deep Sea or Four Lucky Clover (BGaming), sharpening your blade for the next encounter. This bonus requires a minimum deposit of $15 and comes with an activation period of three days, so haste is of the essence.
3rd Deposit Bonus
On your 3rd deposit, the saga reaches a crescendo with a bonus of 80% up to $750, plus 50 fress spins on the same captivating pokies. A minimum deposit of $15 applies, giving you the fortitude to press on in your quest for glory.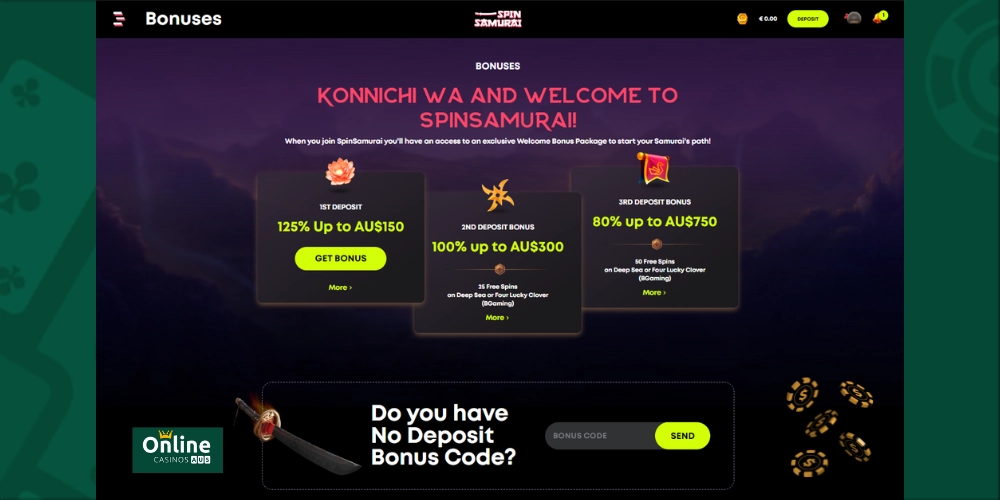 Spin Samurai Casino VIP Program
Embark on a journey of loyalty at Spin Samurai Casino, where every game played earns you points, drawing you further down the path of a warrior. The VIP program is a choice between two ancient ways: the Samurai pathway, rewarding you with formidable cashback, and the Ninja pathway, bestowing upon you potent deposit bonuses.
As you amass loyalty points, you'll ascend through the ranks, from wielding a Wooden Sword to the esteemed status of a Jonin or equivalent Samurai stature. Here's a glimpse of the path ahead:
Wooden Sword (0-499 Points): Your quest begins with a wooden sword, a symbol of your potential.
Nunchaku (500-999 Points): Progress to master the Nunchaku and earn your first rewards.
Ronin/Kenin (1,000-3,999 Points): As a masterless warrior or a devoted retainer, your skills will not go unnoticed; rewards await.
Genin/Chunin (4,000-47,999 Points): Climbing the ninja ranks, you demonstrate your growing prowess in gaming.
Jonin (48,000+ Points): Your commitment to the games has made you a master, reaping the full benefits of the loyalty program.
With each new level, your rewards grow, culminating in the prestige and honour befitting a true gaming warrior at Spin Samurai Casino.
Additional Bonuses at Spin Samurai
At Spin Samurai Casino, the art of rewarding players extends beyond the welcome mat. Loyal customers find themselves amidst a dynamic battlefield of promotions and bonuses designed to keep the spirit of play both fresh and exciting. The casino's offerings are as varied as the weapons of a samurai, ranging from weekly specials like the Top Slots Super Offer to surprise gifts such as the Daily Reward Bonus.
These incentives are crafted to ensure that every visit to Spin Samurai is full of potential, with new promotions regularly appearing like swift strikes of a katana. Examples of such promotions include the chance to garner free spins on top pokies, receive match bonuses, or participate in thrilling tournaments with hefty prize pools.
Given the ever-changing nature of these promotions, it is crucial for players to remain vigilant, keeping an eagle eye on the Promotions page and following the casino on social media platforms. This is where Spin Samurai announces their latest campaigns and where players can grab timely opportunities.
Moreover, it's essential to understand the battlefield rules; thus, players should always familiarise themselves with the terms and conditions associated with each promotion. By doing so, they ensure they are well-positioned to take full advantage of the bonuses on offer, without missing a step on their quest for glory and riches at Spin Samurai Casino.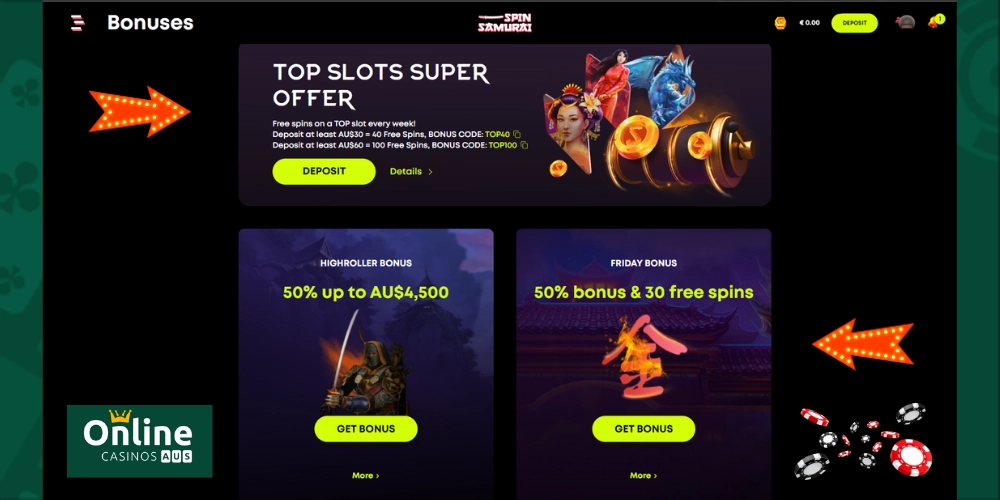 Which Games to Play at Spin Samurai Casino
The focus of any casino online lies in its gaming library. A rich selection of high-quality casino games is crucial, as it ensures players have an array of entertainment options, keeping the thrill of discovery and the excitement of gameplay perpetually alive. At Spin Samurai, diversity in gaming is paramount, ensuring that whether you're a fan of the latest pokies or classic casino table games, there's always something to engage you.
Additionally, a seamless interface and well-designed platform mean that finding and selecting your next game to conquer is both intuitive and hassle-free, allowing for an uninterrupted gambling venture.
Live Casino
Live casino gambling is an essential feature for any contemporary online casino, perfectly blending the convenience of online play with the atmosphere of a land-based casino. For those who can't make it to a casino, or don't have one nearby, Spin Samurai's live casino offerings transport you right to the casino floor, no matter where you are.
It's a bustling digital world where the spin of the roulette wheel and the flip of the cards happen in real time, dealt by real dealers. Spin Samurai showcases top casino software providers such as Atmosfera and Clawbuster, featuring engaging games like Music Wheel, Crazy Claw 2049, Circus Claw, Blackjack, and Cocktail Roulette, all delivering the pulse of casino excitement directly to your screen.
Pokies
For Aussie players, pokies are more than just a game; they're a pastime. That's why the pokies selection at Spin Samurai is curated to cater to every preference, ensuring that the library is always brimming with the latest and greatest titles. With providers like BGaming, Betsoft, iGTech, Playson, and Yggdrasil, the casino is always at the forefront of gambling brilliance. Exclusive titles like Elvis Frog in Spin Samurai, alongside player favourites such as Wild Cash, Wild Buffalo Hold'n Link, and Raptor Doublemax, ensure that your quest for adventure and big wins is as endless as the variety of pokies available.
Jackpot Pokies
Jackpot pokies are the treasure troves of the online casino world, with the power to change fortunes in a single spin. These games are the epitome of high-stakes excitement, where each wager can potentially lead to life-altering wins.
At Spin Samurai, you'll find a selection of jackpot pokies from renowned providers like Betsoft and BGaming, including the lush Thai Blossoms, the spicy Hot Chillies, and the Las Vegas-inspired Elvis Frog in Vegas. With every spin, players have the chance to strike it rich, adding a layer of extraordinary thrill to the pokie-playing experience.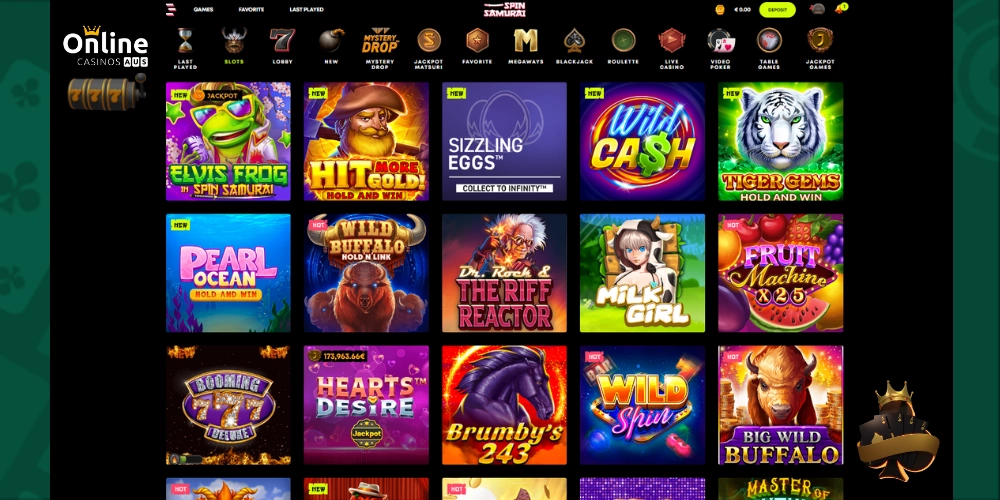 Table Games
Spin Samurai Casino prides itself on a broad array of classic table games, ensuring that traditionalists have a rich selection to choose from. Whether you're a card enthusiast or the roulette wheel beckons, this casino has you covered with a variety of each classic casino game and its intriguing variants. Poker players can bluff and call with the best in Joker Poker, while blackjack aficionados can try their luck at Pirate 21.
The casino also offers Top Card Trumps for those looking to experience the thrill of Casino War, and Red Dog for players who enjoy poker-based games. Roulette for real money enthusiasts are not left out, with variants like Gold Roulette spinning the chance to win. This extensive selection means that fans of table games can find both the timeless versions they love and new twists to keep the excitement fresh.
Other Games
Spin Samurai Casino goes beyond the conventional gambling offerings, catering to a diverse range of preferences with a variety of other games. For those who fancy a break from the usual slots and table games, alternative options like Minesweeper provide a nostalgic yet thrilling way to potentially multiply your stake.
Keno and Plinko stand as lottery-like fixtures for players who enjoy a different pace, relying on the anticipation of random number draws and the physics of falling discs. Instant win seekers can scratch their way to victory with King of Jumping Scratch or soar to new heights with Aviator, a game that mixes social strategy with luck. Spin Samurai ensures that no matter what kind of game you're in the mood for, there's something available at your fingertips.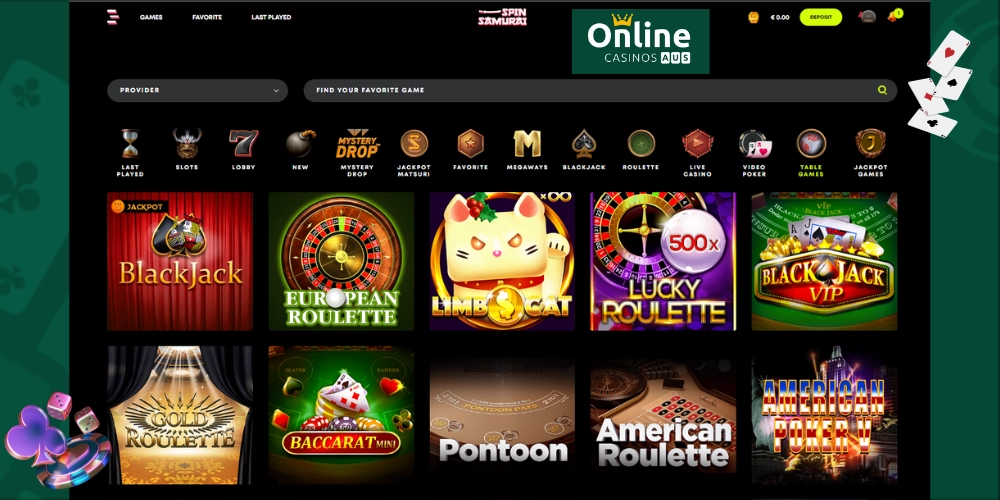 Spin Samurai Casino Payments
In the digital dojo of Spin Samurai Casino, the importance of secure, swift, and reliable casino payment methods cannot be overstated. Players expect not only a variety of deposit and withdrawal options but also the assurance of safety with each transaction. The casino meets this expectation head-on, offering a fortress of payment security, where the latest encryption technology guards every transfer. This ensures that the financial warriors can focus on their gambling quest with peace of mind, knowing their funds are handled with the utmost care.
Deposits at Spin Samurai Casino
At Spin Samurai Casino, funding your account is akin to sharpening your sword – it's essential and made effortless. The casino offers a wealth of deposit methods to suit every player, from traditional cards to modern e-wallets and cryptocurrencies. Each deposit method is designed for rapid processing, allowing players to leap into action without delay. The minimum and maximum limits per deposit cater to both the cautious novice and the bold high roller, ensuring that all players can manage their bankrolls with precision.
| | | |
| --- | --- | --- |
| Deposit Method | Time for Processing | Min & Max Deposit |
| Credit Cards | Instant | $15 – $6,000 |
| Neosurf | Instant | $20 – $6,000 |
| CashtoCode | Instant | $10 – $1,600 |
| ApplePay | Instant | $20 – $1,000 |
| Bitcoin | Instant | 0.0001 BTC – no limit |
| Bitcoin Cash | Instant | 0.001 BCH – no limit |
| Litecoin | Instant | 0.01 LTC – no limit |
| Dogecoin | Instant | 1 DOGE – no limit |
| Ripple | Instant | 0.001 XRP – no limit |
| Ethereum  | Instant | 0.01 ETH – no limit |
| Tether | Instant | 5 USDT – no limit |
Withdrawals at Spin Samurai Casino
When the time comes to withdraw your spoils from Spin Samurai Casino, the process is streamlined for a quick and easy retrieval of funds. The casino offers a range of withdrawal methods, each with its own cadence of processing time, to ensure you can access your winnings how and when you want them. From the swift digital transactions of e-wallets to the steadfast traditional bank transfers, the withdrawal process is tailored to provide convenience and security.
| | | |
| --- | --- | --- |
| Withdrawal Method | Time for Processing | Min & Max Withdrawal |
| Bank Transfer | Instant | $100 – $6,000 |
| Bitcoin | Instant | 0.002 – 0.4 BTC |
| Bitcoin Cash | Instant | 0.001 – 100.0 BCH |
| Litecoin | Instant | 0.3 – 60.0 LTC |
| Dogecoin | Instant | 0.1 – 100000.0 DOGE |
| Ripple | Instant | 0.001 – 5800.0 XRP |
| Ethereum | Instant | 0.1 – 20.0 ETH |
| Tether  | Instant | 20.0 – 4000.0 USDT |
Site Usability and Customer Service at Spin Samurai Casino
Ease of use is a crucial element of any online casino experience, and Spin Samurai Casino cuts no corners in crafting a user-friendly interface. From logically organised menus to a seamless search function, every aspect of the site is curated for intuitive navigation.
The site's aesthetic employs a harmonious blend of colours that evoke the serenity and focus of a samurai's dojo, ensuring that players can find their desired games, bonuses, and services without distraction. The casino's layout demonstrates an understanding of player needs, creating a space where convenience and functionality are as balanced as the ancient art of the samurai itself.
Mobile Usability
In today's mobile-first world, Spin Samurai Casino ensures that the thrill of the game is always within reach, regardless of where the player may be. The mobile version of the site mirrors the efficiency and style of its desktop counterpart, with touch-friendly menus and swift loading times that cater to the on-the-go gambler.
Whether there's an app or not, the mobile site is tailored to be a fortress of fun in the palm of your hand, offering a full range of games optimised for play on smaller screens without sacrificing quality or performance.
Customer Service
The shogun of customer support, Spin Samurai Casino, provides assistance with the honour and respect worthy of their namesake. Customer service representatives are on hand 24/7, exemplifying the samurai's commitment to duty.
They offer help with a friendly and knowledgeable approach, ensuring that players' queries are addressed with speed and efficiency. With multiple channels of communication, including live chat and email, players have access to support whenever the need arises, reflecting the casino's dedication to outstanding service.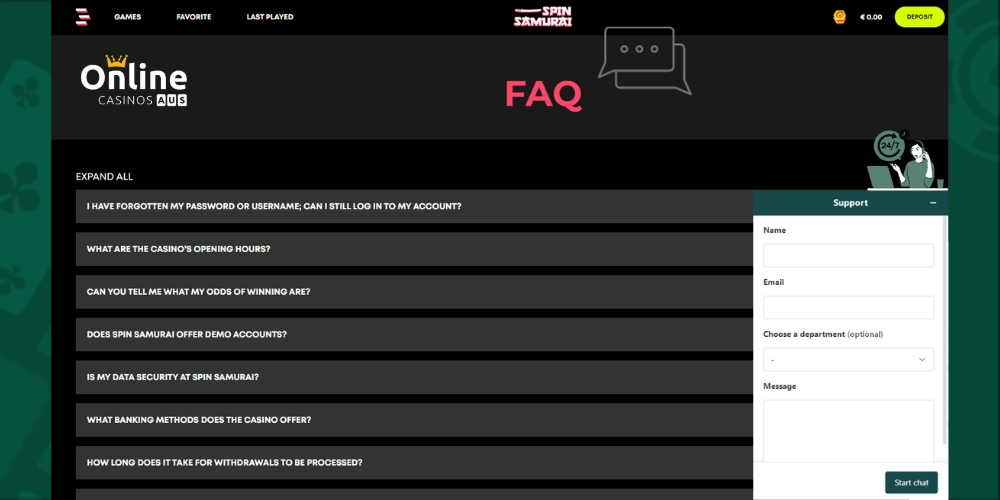 Enter the Spin Dojo: Spin Samurai's World of Whirling Wins!
Spin Samurai Casino offers a distinctive blend of tradition and innovation, setting the stage for an online gambling experience that is both rich in variety and steeped in quality. Players looking for an expansive selection of games, robust bonuses, and a loyalty program that honours their playtime will find a welcoming sanctuary here. With its commitment to security and customer service, Spin Samurai Casino stands as a formidable presence in the digital gambling world.
What Makes Spin Samurai Casino Unique?
Spin Samurai Casino carves out its unique identity through a thematic experience that pays homage to the samurai culture, infusing every aspect of the casino with a sense of adventure and honour. The casino distinguishes itself with an extensive library of pokies and live dealer casino games, enriched by the path of loyalty one can take – choosing between the way of the Samurai or Ninja, each offering tailored rewards.
This personalised approach to player engagement, combined with a secure and user-friendly platform, ensures that Spin Samurai Casino offers more than just games; it provides a narrative-rich journey through the world of online gambling.
Trustworthiness
Bonuses
Games
Usability
Customer service
Discover Spin Samurai
Pros and Cons
Pros

Broad pokies and game selection
Samurai/Ninja loyalty rewards
Large welcome offer
Crypto payments available
24/7 live chat support
High-security standards
Cons

High bonus wagering
Frequently asked questions
What types of games can I play at Spin Samurai Casino?
Spin Samurai Casino boasts a diverse range of games, including various pokies, live dealer games, table games with multiple variants like blackjack and roulette, and unique specialty games such as Minesweeper and Aviator.
Can I play games for free at Spin Samurai Casino?
Yes, Spin Samurai Casino provides the option to play many of their games in a free-play mode, allowing you to try them out for free before playing with real money.
What currencies are accepted at Spin Samurai Casino?
Spin Samurai Casino accepts a variety of currencies, including several cryptocurrencies, providing flexibility for players from different regions.
How can I earn loyalty points at Spin Samurai Casino?
Loyalty points at Spin Samurai Casino are earned by playing games. These points contribute to your progression through the loyalty tiers, each offering its own set of rewards.
Are there any tournaments at Spin Samurai Casino?
Yes, Spin Samurai Casino hosts various tournaments with different themes and prize pools, offering players competitive gameplay and the chance to win extra prizes.
What should I do if I forget my account password?
If you forget your password, you can use the password reset feature on the casino's login page. Instructions for resetting your password will be sent to your registered email address.
How long does it take to process a withdrawal at Spin Samurai Casino?
Withdrawal processing times at Spin Samurai Casino vary depending on the method used. E-wallet and cryptocurrency transactions are typically processed instantly, while other methods may take longer.