Pokie

Starburst

Provider

NetEnt

RTP

96.09%

Paylines

10, Both Ways

Maximum Win

500x

Volatility

Low

Minimum Bet

$0.10

Maximum Bet

$100

Jackpot

No

Bonus

Yes
The Starburst Theme
The allure of Starburst lies in its entrancing theme. Set against the backdrop of a seemingly endless megacosm, players encounter a mix of radiant gemstones. The fusion of classical symbols like the coveted Lucky Number 7 and the iconic BAR with the enigmatic charm of the setting itself creates a compelling visual narrative that keeps players coming back.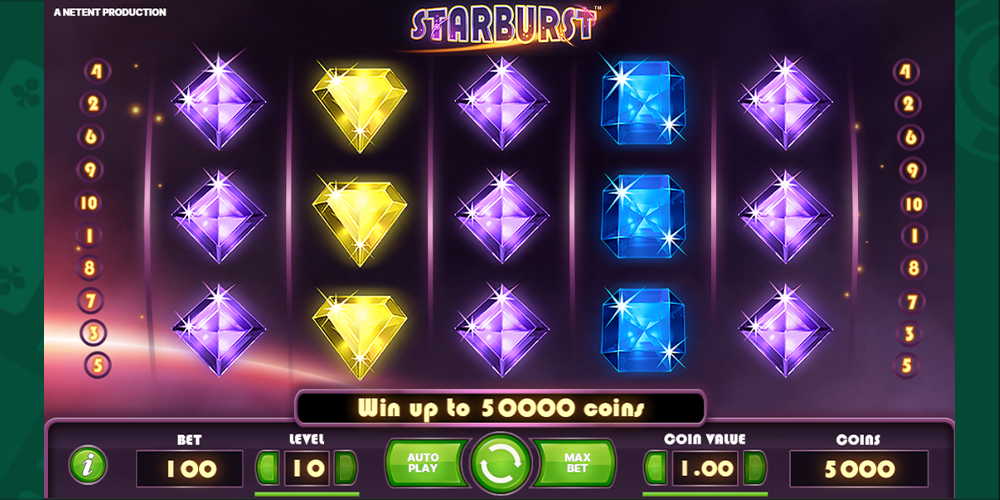 Playing Starburst for Real Money
Taking on Starburst's interstellar journey with real money stakes unlocks the potential of its enticing rewards. With a max payout of 500x your bet, players have the opportunity to secure substantial returns while immersing themselves in the game's allure.
Beyond the financial incentives, playing for real money amplifies the thrill, adding a strata of anticipation to every spin. When stakes and visuals intertwine, Starburst becomes more than just a pokie – it transforms into an exhilarating chase for intergalactic riches.
Play for Free
Before making a monetary commitment, Starburst allows players to test its cosmic waters. By opting for the free play/demo mode, one can experience the game's ethereal charm without the risk of losing one's dough. Therefore setting the stage for future real-money endeavours.
All You Need to Know About Starburst
Starburst by NetEnt stands out as an emblem of innovation in the world of online pokies. At its core, it features a 5-reel, 10-payline setup. However, what sets it apart from many other slot games is its 'win both ways' mechanism. This feature allows players to form winning combinations from both left-to-right and right-to-left, effectively amplifying their chances of securing wins.
The visual charm of Starburst is undeniable. The game offers an interstellar theme that captivates players with its vibrant and shimmering gemstones set against the deep expanse of the universe. Paired with a soothing soundtrack, the game promises not just an opportunity for rewards but also a tranquil and mesmerising gaming experience.
Symbols & Special Features
Starburst's reels reveal a collection of symbols that beautifully blend the classic with the cosmic. These symbols not only enhance the game's aesthetic appeal but also play a crucial role in a player's journey towards potential rewards.
Low-Payout Symbols: The game's vibrant palette is showcased through radiant jewels that frequently grace the reels. The purple and blue jewels, though offering the lowest payouts, are a common sight, providing consistent rewards. The orange, green, and yellow gems, on the other hand, step up the value slightly, acting as medium-tier symbols that strike a balance between frequency and reward.
High-Payout Symbols: For those seeking the thrill of bigger wins, a couple of symbols stand out. The Lucky Number 7 evokes a sense of nostalgia, reminiscent of classic fruit machines, and offers substantial rewards when it graces the paylines. But it's the BAR Symbol that players truly covet. As the game's pinnacle in terms of payout, lining up five of these on an active payline can transform a player's fortunes.
Symbols Paytable
| | | |
| --- | --- | --- |
| Symbol | Payline | Maximum Payout |
| Bar | x5 | 250x |
| 7 | x5 | 120x |
| Yellow Diamond | x5 | 60x |
| Emerald | x5 | 50x |
| Ruby | x5 | 40x |
| Sapphire  | x5 | 25x |
| Amethyst  | x5 | 25x |
Starburst's Bonuses
As players navigate through the vastness of Starburst, it becomes evident that its re-spin bonus is a celestial spectacle in its own right. These add-ons not only amplify the gaming journey but also infuse every spin with an additional layer of thrill. Moreover, many top online casinos enhance the Starburst experience further by offering dedicated casino bonuses, further elevating the winning prospects.
The Starburst Re-Spin Feature
Journeying through Starburst's reels, the Re-Spin Feature emerges as an astronomical event in the gaming universe. While many pokies do incorporate re-spin mechanics, what sets Starburst apart is the dramatic flair and potential it introduces.
Activated when a Starburst Wild lands on reels 2, 3, or 4, the feature locks the entire reel in place and triggers a free re-spin, offering players a chance at potentially gargantuan rewards. The intrigue further intensifies when, during a re-spin, another wild descends. As it expands and occupies its respective reel, another re-spin is initiated, with the previous wild reel still firmly locked in place. For the truly fortunate, this can culminate in having three fully wild reels spinning simultaneously, promising payouts of celestial proportions.
This Re-Spin Feature, with its cascading excitement and thrill, keeps players perpetually on the edge of their seats, eagerly anticipating that next big win. It stands as a testament to Starburst's unique charm, ensuring that every spin has the potential to turn the tides of fortune.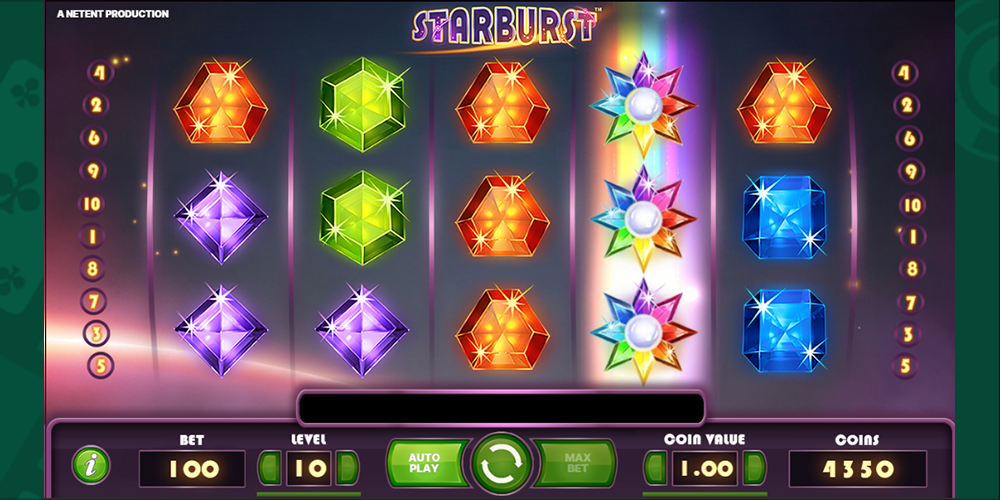 Gazing Back at Starburst | A Galactic Round-Up
In the vast expanse of online gambling, Starburst firmly establishes its radiant presence. Its simple yet effective gameplay makes it accessible to newcomers while retaining the depth to intrigue seasoned players. While the game doesn't overflow with bonus features or free spins, what it offers is finely tuned and immensely impactful, particularly the Starburst Wild. It is without a doubt a popular pokie game amongst Aussie players and because of this, it is not surprising to see that the game can be played at popular online casinos like King Billy.
It's a game that offers a harmonious blend of nostalgia and innovation, reminding players of the classics while introducing modern twists. Dive into this galactic odyssey, and you might just find your next favourite pokie.
How Does Starburst Set Itself Apart?
Amidst the vast nebula of online pokies, Starburst emanates a distinctive glow. While the game might appear simple on the surface, it's the nuances that make it special. The unique 'win both ways' feature not only differentiates Starburst but also elevates the thrill factor, essentially doubling the chances of a win.
Additionally, its Starburst Wild feature is more than just an ordinary wild symbol; it's an event, a spectacle that keeps players hooked. Unlike some titles that are mere replicas of pre-existing pokies, Starburst offers a gaming experience that feels both familiar and refreshingly innovative.
Design
Gameplay
Bonus features
Innovativity
Play Starburst
Pros and Cons
Pros

Unique 'win both ways' feature
Iconic Starburst Wild not only substitutes but also triggers re-spins
Vibrant and immersive graphics
Simplified gameplay
Cons

Lacks a diversity of bonus features
No Free Spins
Frequently asked questions
What is the 'win both ways' feature in Starburst?
The 'win both ways' feature in Starburst allows players to secure winning combinations from both left-to-right and right-to-left. This effectively doubles the chances of landing a winning line, offering a unique twist compared to traditional pokies.
How often can I expect the Starburst Wild feature to trigger?
While Starburst operates on a Random Number Generator ensuring each spin is unique, the Starburst Wild feature is known to appear relatively frequently. However, remember that pokie outcomes are always random, and past results don't influence future spins.
How important is the betting range in Starburst?
The betting range in Starburst is versatile, accommodating both low-stakes players and high rollers. Adjusting your bet size can influence potential payouts, so it's crucial to set a wager that aligns with your budget.
What is the maximum payout in Starburst?
Starburst offers a maximum payout of $50,000. The potential for such significant wins, especially when combined with the Starburst Wild feature, makes the game especially attractive to players seeking big rewards.
How does the game's theme enhance the overall playing experience?
Starburst's vibrant cosmic theme, paired with its entrancing audio-visual effects, offers players a truly immersive gaming experience. The neon-lit symbols and galactic backgrounds pull players into a space adventure, making each spin more than just a quest for wins, but a visual and auditory treat.
Does Starburst have an autoplay feature for extended gaming sessions?
Yes, Starburst is equipped with an autoplay function that allows players to set a specific number of spins to play automatically. This feature is perfect for those who want to enjoy the game without constant manual spins, but it's always essential to monitor your budget while using autoplay.