History of Play'n Go
Emerging from the serene landscapes of Växjö, Sweden, Play'n GO embarked on its quest to reshape the world of online pokies in 2005. What began as a modest startup soon transformed into a global sensation, thanks to their unwavering commitment to excellence and innovation.
Over the years, Play'n GO has seamlessly merged the enchanting realms of iconic bands with immersive gambling, crafting a niche that remains unparalleled. Their story is one of passion, perseverance, and a relentless pursuit of pioneering in the competitive online gambling sphere.
Play'n Go an Innovative Software Developer
In an industry teeming with software providers, Play'n GO stands tall, heralded for its groundbreaking innovations. But what truly sets them apart? It's their unique approach to game development, effortlessly blending the excitement of world-renowned music with the rush of gambling.
Their titles aren't merely games; they're exhilarating experiences, transporting players into the universes of legends like *NSYNC and Alice Cooper. Beyond the melodies, Play'n GO showcases a penchant for technological prowess. With unique grid layouts, such as the 2,3,4,3,2 grid in *NSYNC Pop, they consistently offer fresh and engaging gameplay experiences.
Their deep-rooted understanding of player preferences, combined with a dedication to cutting-edge technology, cements Play'n GO's position as an industry trailblazer.
Cutting-Edge Tech & Player-Centric Design
Play'n GO is renowned for harnessing the latest technology to craft pokies that are both entertaining and tailored for the player. Their games often feature unique grid layouts, ensuring that each release offers a fresh experience. But it's not just about the visuals and gameplay mechanics.
Play'n GO prioritises the player's experience, ensuring that their creations are an intricate blend of stunning visuals, precise audio, and engaging gameplay mechanics that keep players enthralled.
Strategic Collaborations & Seamless Solutions
Play'n GO's software is emblematic of adaptability. Designed for smooth gameplay and cross-platform compatibility, it ensures that players around the world have a hitch-free experience, whether on mobile or desktop. Beyond its technological prowess, Play'n GO's forward-thinking approach is evident in its strategic collaborations.
The recent partnership with BeyondPlay, a venture dedicated to multiplayer engagement, exemplifies this. By combining their rich game portfolio with BeyondPlay's innovative platform, Play'n GO ensures that the future of online gambling is both exciting and expansive.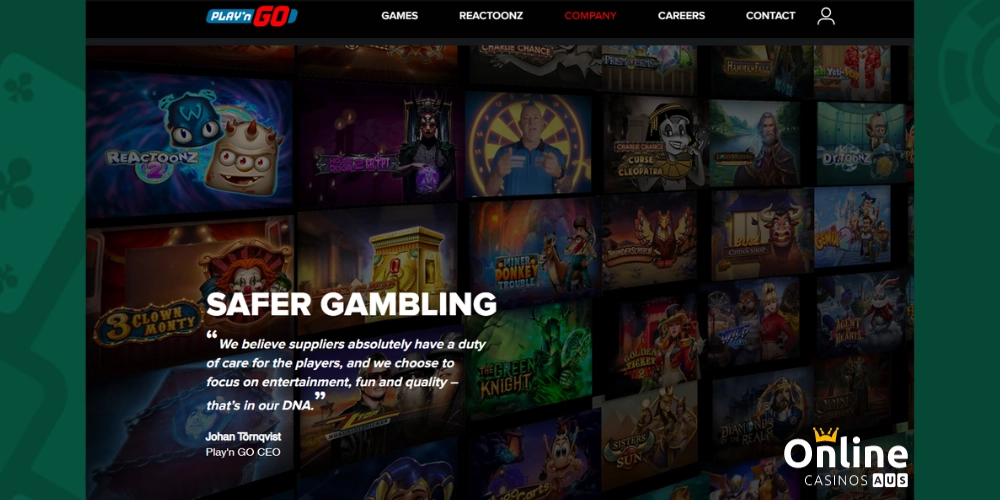 Most Popular Games by Play'n Go
In the bustling universe of online casino games, Play'n GO's pokies shine brilliantly. Their meticulous blend of gripping narratives, dynamic gameplay, and exceptional graphics sets them apart, ensuring players are consistently treated to quality experiences.
It's no surprise that amidst a surplus of choices, Play'n GO's creations remain a top pick for many players. Their offerings don't just serve as games; they're immersive tales that allow players to live out countless adventures. Let's explore some of their standout titles that have garnered immense popularity:
Bull in a China Shop
Amidst the hustle and bustle of a traditional Chinese store, "Bull in a China Shop" truly showcases Play'n GO's commitment to visually arresting and engaging pokies. The game's vivid colours bring porcelain artefacts to life, with harmonious ambient sounds transporting players directly to a teeming Chinese marketplace.
Beyond its eye-catching aesthetics, this pokie offers an intuitive gameplay experience, with features designed to enhance the chances of securing wins, ensuring that every spin becomes a delightful journey.
Moon Princess
"Moon Princess" is a glowing amalgamation of popular Anime themes combined with Play'n GO's unmatched game design excellence. Echoing subtle hints of iconic series like Sailor Moon, the game introduces players to a mesmerising universe all its own. The enchanting blend of soft pastel hues and vibrant highlights ensures players are visually engaged, while the game's unique narrative and features keep them hooked.
Reactoonz
"Reactoonz" is a delightful mixture of whimsy and innovation. With its uncommon 7×7 grid layout, the game offers a refreshing deviation from traditional pokie structures. Set against a cosmic backdrop, players interact with the quirky extraterrestrial characters, the Reactoonz. The lively animations and futuristic sound effects guarantee that every spin is nothing short of an interstellar adventure.
Doom of Egypt
Succeeding the acclaimed "Legacy of Egypt," "Doom of Egypt" offers players a captivating voyage through the landscapes and enigmas of ancient Egypt. The game's rich colours and intricate hieroglyphic symbols transport players to an era of pharaohs, deities, and concealed treasures. The harmonious fusion of visual elements with an evocative auditory landscape ensures a deeply immersive gambling experience.
HammerFall
"HammerFall" presents a unique fusion of mediaeval themes infused with the raw vigour of power metal. Paying homage to the Swedish power metal band, this game doesn't just offer a pokie experience but takes players on a musical odyssey. Featuring a distinct 7×7 grid layout, contemporary visuals, and a knight-guarded castle backdrop, "HammerFall" ensures every spin is a feast for both the ears and eyes.
NSYNC Pop
"NSYNC Pop" by Play'n GO is a nostalgic journey into the heart of pop's golden era. Seamlessly blending NSYNC's iconic moments with pokie mechanics, this game captivates fans and gamblers alike. The clever nod to the band's name origin adds depth, while the gameplay keeps players on their toes. The 'Pop' theme is intricately woven into the features, with the Encore Spin as the highlight. Clear all Pop symbols, and you're in for a treat. With potential wins reaching up to 5,000x the bet, "NSYNC Pop" offers a musical escapade with enticing rewards.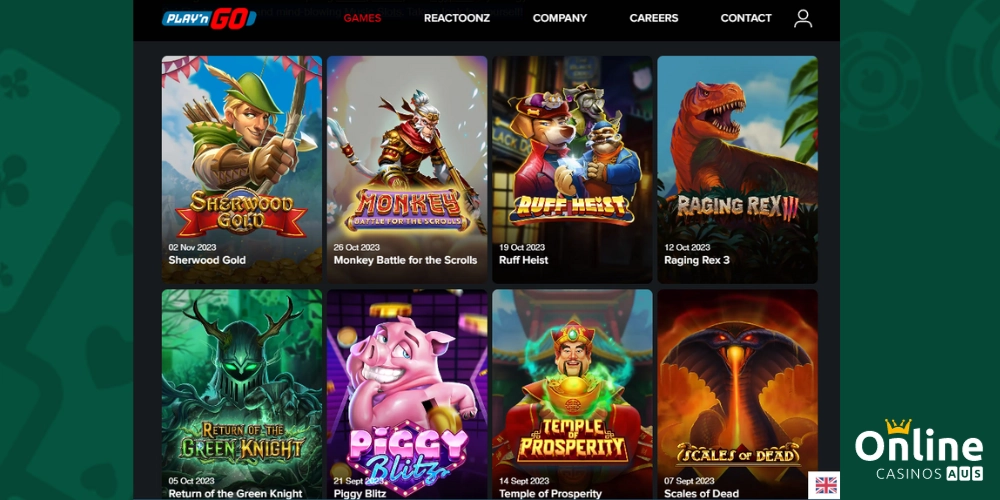 Play'n GO: Where Rhythms Meet Reels
Play'n GO has distinctly positioned itself in the vibrant world of online casino gambling. With their unwavering commitment to innovation, they've created a gaming universe where music, technology, and gameplay converge. Their collaborations with iconic bands and emphasis on player experience set them apart from many industry counterparts.
By championing responsible gambling and ensuring cross-platform compatibility, Play'n GO showcases a holistic approach to the world of online pokies. In essence, Play'n GO is not just another software provider; they're a cornerstone of excellence in the dynamic realm of online gambling.
Frequently asked questions
Who is Play'n GO?
Play'n GO is a premier software provider in the iGaming industry, celebrated for producing top-notch online pokies and casino games. Their commitment to innovation and player experience has cemented their reputation as a favourite among online casino enthusiasts.
Are Play'n GO games trustworthy and fair?
Absolutely. Play'n GO games undergo rigorous testing to ensure fairness and integrity. They operate under multiple licences in various jurisdictions, ensuring that their games meet the highest industry standards.
What types of games does Play'n GO primarily develop?
Play'n GO specialises in online pokies but also boasts a diverse range of casino games, from table games to specialty games. Their portfolio stands out for its variety, quality, and unique themes.
How does Play'n GO stand out in terms of game themes and features?
Play'n GO is renowned for crafting games with a wide array of themes, from ancient civilizations to modern-day music bands. Their games frequently introduce innovative features that elevate gameplay and enhance player experience.
How frequently does Play'n GO release new titles?
Play'n GO has a commendable track record of introducing new games on a regular basis. While the exact frequency can vary, they consistently unveil multiple titles each year, ensuring a steady stream of fresh content for players.
Do I need to download any software to play Play'n GO games?
No, Play'n GO games utilise HTML5 technology, allowing players to access and enjoy them directly through web browsers without any additional software downloads.
Has Play'n GO received any industry recognitions or awards?
Indeed, Play'n GO has been honoured with numerous awards over the years, highlighting their excellence in game development and innovation in the iGaming sphere. These recognitions include accolades from EGR Italy Awards 2019, iGaming Excellence Awards, and the title of Mobile Supplier of the Year, among others.